ACCF is Australia's leading cervical cancer charity. 
Since 2007, the Australian Cervical Cancer Foundation (ACCF) is the only consumer-focused cancer charity in Australia dedicated exclusively to prevent cervical cancer and to support all individuals impacted by a cancer in cervix and cervical abnormalities. We create community awareness and education on HPV, cervical health, and cervical cancer to improve health outcomes for women and people with a cervix.
Did you know cervical cancer is preventable?
Every two minutes, somewhere in the world, family and friends mourn the loss of a wife, mother, daughter, sister, aunt, or friend from cervical cancer. At ACCF, we won't rest until cervical cancer becomes history. 
In Australia, the HPV vaccine is freely available to all school-aged girls and boys. Eligible Australians can also access the Cervical screening test (formerly the Pap test or Pap smear), now available as self-collection cervical screening in all GP practices. Cervical cancer is curable, and we are well on track to eliminate this mostly preventable disease by 2035.
At ACCF, we believe all women and people with a cervix should have access to reliable, preventative healthcare – regardless of where they live.
In 2006, Professor Ian Frazer was awarded Australian of the Year for his invention of the Gardasil Vaccine. However, he knew that the HPV vaccine may never reach the people who need it the most – girls and women in developing countries.

Our story began in 2007 when our founders Mike and Lenore Willie used their own funds to purchase vaccines. With their connections to the Australian Embassy in Nepal, the couple travelled to Kathmandu and vaccinated the first Nepalese girls against HPV. From this adventure, ACCF was born.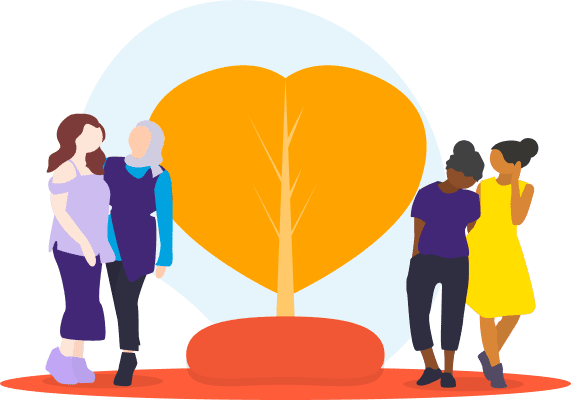 In developing countries
ACCF has supported projects and clinics to deliver vaccination for HPV, cervical screening, and treatment of cervical cancer in Nepal, Bhutan, Vietnam, The Solomon Islands, Vanuatu, Kiribati, Philippines, and Papua New Guinea. When working in developing countries, we provide on-the-ground education and work closely with local organisations to ensure projects have long-term viability. 
In developing countries, ACCF has facilitated HPV vaccination for over 177,000 girls and cervical screening and cervical cancer treatment for over 115,000 women!
We have also been instrumental in Bhutan's boys' vaccination program, one of the only developing countries to vaccinate boys as well as girls. 
In Australia, as of the end of 2022…
We ran ­­733 school and community presentations to 76,771 people

We gave $10,000 to 18 families

as part of the Orange Hearts Bursary Program

Since 2014, we have reached communities across Australia with our signature annual awareness campaign

Cervical Cancer Awareness Week

.

To eliminate cervical cancer in Australia and in developing countries.
The charitable mission of the Australian Cervical Cancer Foundation is to:
Facilitate and implement practical programs designed to provide awareness about prevention of and vaccination, screening and treatments for cervical cancer, cervical abnormalities and HPV-related cancers.

Enable and encourage effective changes which produce life-saving results to improve women's health outcomes and contribute to empowering women, reducing their poverty and disadvantage, and ultimately develop stronger communities.

Work and partner with like-minded governments, organisations and individuals.
We act with honesty, always. We are guided by ethical and moral principles in everything we do.
We openly share information about our organisation and the work we do to stakeholders, the community and the public. 
We strive to deliver outcomes that enhance and protect women's health. Our programs help to eliminate cervical cancer through vaccination and screening. 
We recognise the value and diversity of every person and are committed to treating others with due regard for their rights, dignity and integrity.
We work with and alongside others in a spirit of mutuality, respecting diversity and difference in the pursuit of common goals. 
We are committed to overcoming prejudices and disadvantages and promoting fair and just access to resources and opportunities. 
ACCF is a cancer charity in Australia. We are nationally licensed to fundraise and receive cancer charity donations in Australia. We have reporting obligations to each state and territory in which we operate. 
Registered as a Charity with the Australian Charities and Nonprofits Commission (ACNC)

Designated as a Deductible Gift Recipient by the Australian Tax Office (ATO)

Designated as a Public Benevolent Institution.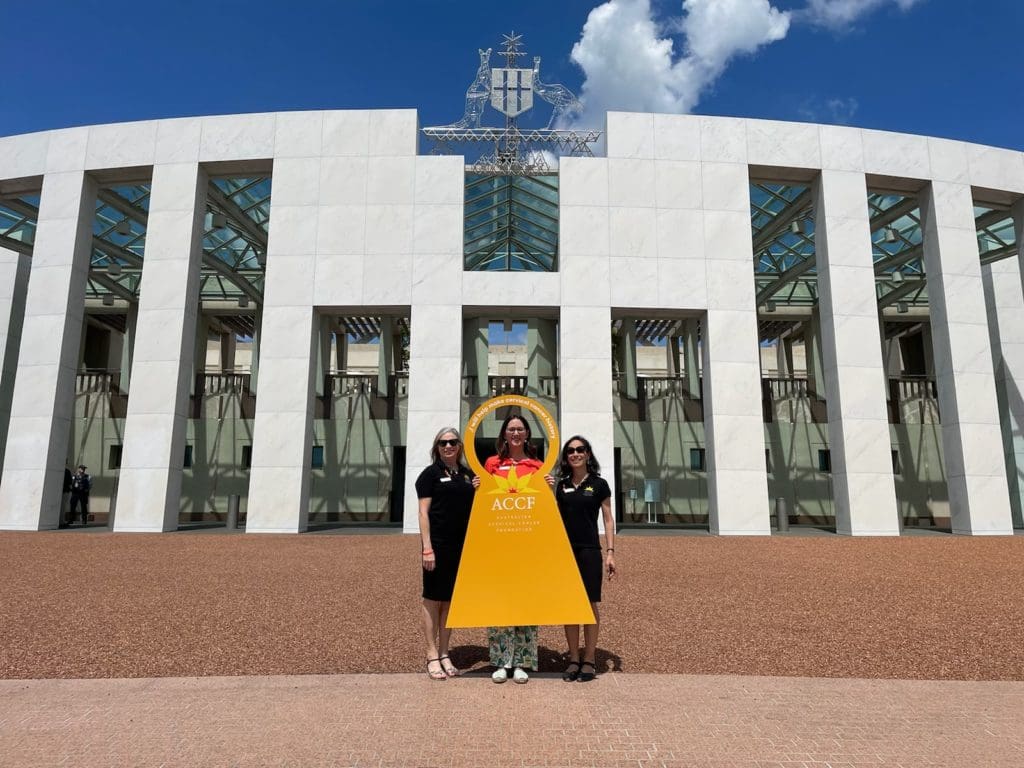 At ACCF, we work towards one goal: making cervical cancer history. 
As part of our commitment, we provide awareness and education for high-school students, women, people with a cervix, and families affected by cervical cancer. Through our programs and campaigns, we are helping girls, women and people with a cervix access the education and protection they need for their cervical health. Our work is part of a collaborative effort to eliminate cervical cancer in Australia by 2035. 
Awareness about cervical cancer preventative strategies can be found in our school and community programs. HPV & Me involves school education sessions about HPV preventative strategies while the Conquering Cervical Cancer program is part of community and workplace education.
If you or someone you know has questions around HPV, sexual health or cervical cancer, we can help! We provide up-to-date and reliable information on cervical health, HPV vaccination, and cervical screening. 

We're here to help all individuals facing a cervical cancer diagnosis. We provide information, resources, and financial support via our Orange Hearts Bursary Program in partnership with Hyundai Help for Kids. 
Every November, we celebrate Cervical Cancer Awareness Week, our flagship campaign. It's a great opportunity to help us fundraise and spread awareness across Australia. 
Ready to help us make cervical cancer history? You can participate in our annual Giving Day, check out fundraising ideas from our supporters, or get in touch with us about organising your own fundraiser.
Working with vulnerable populations
We recognise that some communities in Australia and developing countries have higher rates of cervical cancer. We work with these populations to provide vaccination for HPV, cervical screening, education and support.
We currently receive no government funding and therefore rely entirely on the generosity of the community and partners to keep our services running. Every dollar counts! 
Would you like more information regarding who we are and what we do? Would you like to know how you can get involved as a supporter, ambassador, or partner?